It was a long weekend and I can happily say that for a change I do feel relaxed. Well, in fact for me all days are pretty much equal but as now H had a chance to spend more time at home it was extra nice for me too, of course. I'm glad that besides some gardening work, cooking, crafting, reading and snuggling we made a little trip to
Fiskars Village
on Sunday. Fiskars is full of beautiful old (and renovated) buildings where local artists and artisans reside and work.
Every summer they show two group exhibitions, one about design and another focusing on art.
Led by Form
is about production in series, showing mostly Finnish design, both industrially produced goods and items made by artisan methods. It is a mix of well known classics and something much more experimental. The following pieces are quite adorable, don't you think?!
Dance Shoes
by
Company (Aamu Song & Johan Olin)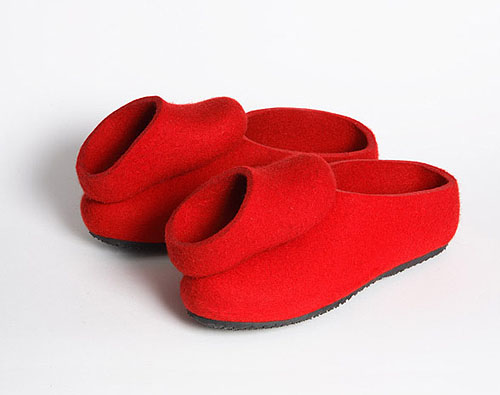 Porcelain bowls
by
Heli Valaja

Animal stories
by
LEM
International textile exhibition
It is Beautiful Here
is held in a charming old wooden magazine building with three floors. Here are some of my very favorites from what I saw (did I just tell you I recently started my embroidery lessons?!)
A part of installation
The Bear and the Girl
by
Helen Dahlman
Panier percé
by
Guillaume Delvigne & Ionna Vautrin
Sealpelt
by
Vik Prjónsdóttir
Autumn Collection
by
Severija Incirauskaité-Kriauneviciené
The Girl Is Growing
by
Outi Martikainen
The exhibitions opened on May 10th and they will keep the doors open till September 27th. Pay a visit if you're in the area this summer!